Chestnut Way Updates
March 24, 2019 Update
Trace & Company has completed the asphalt overlay of Chestnut Way and it is now open for thru traffic.  The yellow center line and white side lines will be added at a later date.  As always, please drive carefully and defensively, particularly after dark.
Kenmure Roads Maintenance Committee
*******************
March 20, 2019 Update
Members of the Road Maintenance Committee met yesterday with Trace and Company, the contractor who will be doing the paving of the Chestnut Way construction area as well as a full asphalt overlay of Chestnut Way from Overlook Drive to Red Maple Drive.
Good News:
1.  Area asphalt plants have now reopened.
2.  Chestnut Way is near the top of the job priority list for Trace and Company.
3.  The current plan is to shut down Chestnut Way for this work as early as Thursday and Friday of this week.  Expectation is that this work will take two full calendar days to complete, therefore the road will be closed to thru traffic for that period of time.
4.  Trace will also be trying to improve the "bumps" associated with utility caps in the road at both ends of Chestnut Way as part of this work.
Please recognize that this schedule is tentative and may move out a day or two, so please plan accordingly.
Thank you.
Kenmure Road Maintenance Committee
******************
February 21, 2019 Update
***** Chestnut Way is OPEN ****
This afternoon (Thursday, February 21), the barriers will be removed from both ends of Chestnut Way and the road will be open to traffic. There will be a few reflectors to aid travelers in seeing the edges of the road, particularly at night, until we can pave and complete striping work.
Please recognize that sections of the road near the construction area may be muddy and the transitions to and from the asphalt to the newly installed stone base in the construction zone are not perfect. If you choose to use the road use appropriate speeds (SLOW DOWN), be cautious and recognize that your car may get dirty!
Thanks for your patience and as noted please be careful.
Andy Clapper, Chair, Road Maintenance Committee
***********************
February 17, 2019 Update
**** Chestnut Way Remains Closed ****
It has come to my attention that some people have started using Chestnut Way.
I drove it late in the week and my decision = although the major repairs are complete and the stone base has been installed, some compaction of the base and leveling at the asphalt/stone transitions are desired prior to opening for traffic. The rains will help with compaction and we hope to have Whitmeyer back on site early this week to do some leveling on transitions between the asphalt and stone sections.
Once that is complete we will set aside or remove the barriers and send a notice to residents that we are open for business until we can do the paving and overlay work.
Just a few more days, please!
– Andy Clapper, Chair, Kenmure Road Maintenance Committee
*************
February 13, 2019 Update
We are nearing the completion of the culvert repair phase of this large project and, weather permitting, hope to open the road to traffic sometime next week. We suffered a short delay due to the significant testing that Hendersonville Water Authority wanted to do, but the good news is that testing went well and is now complete.
Whitmire Grading is doing the final grading of the site and we hope to have the stone for the roadbed delivered and layered in on the section where the asphalt was removed for the culvert replacement. That work should start and we will allow a few days for compaction before opening the road to traffic to reduce rutting between now and the paving in the spring. As noted in previous communications, when the weather warms up we will pave the stone section and do a full overlay of Chestnut Way. This will require a short road closure which will be communicated when we approach that date.
Thanks for your ongoing patience and cooperation.
Andy Clapper, Chair, Kenmure Road Maintenance Committee
***************
January 24, 2019 Update
Although heavily impacted by weather over the past 6 weeks, Whitmire has made significant progress on the Chestnut Way repairs:
Headwalls, concrete seepage barrier, and the new 60-inch culvert are installed.
Water has been re-routed to flow through the new culvert and the old corrugated metal pipe culvert has been removed, rolled up and ready to be hauled away.
A short section of "French drain" has been installed to aid in water drainage in the outlet area of the old culvert.
Fill has been layered back in almost to grade.Before completing the final fill, grading and stone road base, we are awaiting:

AT&T to come out to repair their line and remove the temporary cable, and
Hendersonville Water Authority to install the new water main.
Current thinking is that the road will be re-opened to traffic in approximately 3 weeks with a stone base for the repaired section. We will pave the repaired area and overlay all of Chestnut Way when weather conditions are such that we can be assured of a high-quality paving job = Spring.
********************
January 16, 2019 Update
Here are some pictures of the progress as of yesterday.
The headwalls are set, and they are starting to install the new pipe off-line.  Once they get the new pipe in, they can divert the water and remove the old/failed pipe.  Then the backfilling operations can begin.  Before the project started we had assumed that there would be some wet and unsuitable soils.  It appears that the majority of the soil excavated is clean, dry, and a sandy/granular soil that should be suitable for backfill.
The temporary re-routed AT&T line can be seen in the pictures.
********************
January 11, 2019 Update
Weather created significant delays in the excavation work that was planned for December and the heavy rains have created additional erosion. Our contractor, Whitmire, has been on-site since the weather improved. The two concrete headwalls for the new culvert have been installed and excavation to lay the new culverts is proceeding. Whitmire did encounter a major "buried treasure" of a 300 pair AT&T cable that runs through the excavation site that we were never made aware of in-spite of several inquiries. Fortunately, the line was uncovered without damaging or breaking it and we were able to get AT&T on-site this week. We expect AT&T to be on-site in the next day or two to determine whether there is a way to work around the line or if some form of rerouting will be required. Although we have no details from AT&T yet on exactly what work will be required we are guessing that there is risk of short-term service interruption. We will provide updates on both interruption risks and the overall project schedule when we know more from the AT&T plans.
****************
January 7, 2019 Update
As everyone in the community can appreciate, our December snowstorm delayed the delivery of construction equipment by a week and the heavy rains delayed the excavation work for much of the month. Whitmire has started work and is planning to take full advantage of the improved weather over the coming week.
As noted in prior communications, we had not received return calls from AT&T regarding services that they may have had through the construction site despite numerous attempts. This past week, Whitmire's team found and fortunately did not damage a 300 pair AT&T cable that runs through the site. Plans under development as to how to manage this buried treasure.
December 27, 2018 Update
Work is underway!
**********************
December 20, 2018 Update
Whitmire positioned equipment on Chestnut Way yesterday and had two guys working to install the silt fence.  No plans to excavate until next week because of the rain.
*****************
December 18, 2018 Update
For obvious reasons (an 18″ snowfall), Whitmire Grading delayed the start of the Chestnut Way project. Now that most of the snow has melted, they plan to mobilize equipment to the site later this week. The current plan is Thursday, December 20, but this could shift a day or so either direction.
*******************
December 3, 2018 Update
The contract was awarded to Whitmire Grading and includes:
The removal of the trees that rode the landslide down into the creek as well as clearing of additional trees and brush to gain access for the excavation of the site
Excavating down approximately 20 feet below the road bed to where the current culvert runs
Installation of a new culvert adjacent to the current culvert. New culvert = 60-inch diameter culvert made of durable plastic with concrete headwalls at the entry and exit of the culvert
Redirect the flow of water from the existing culvert to the new culvert and
Remove and dispose of the existing 48-inch corrugated metal culvert that is severely damaged and eroded
Fill the area in, compact it, grade it, lay down matting to prevent erosion and reseed
Repave the excavated section of roadway and do an asphalt overlay of the entire length of Chestnut Way
Note = Fortunately, we will be able to maintain gas, electric and water service to all residents throughout the process. Additionally, Morris BB has indicated that there is no cable running through this section and although we have been unable to get a response from ATT we believe they also have no cable or fiber through this section.
High-level schedule is:
Install an additional water main shutoff valve and cap the gas main to enable isolation of those pipe sections while maintaining service to all residents. COMPLETE
On-site Pre-construction meeting held November 30 and attended by the three homeowners with bordering properties. COMPLETE
Whitmire will start clearing and excavation work on or around Dec 10.
If weather cooperates and we don't encounter any buried treasure, Whitmire estimates 4 to 5 weeks to complete the project.
Reopen Chestnut Way to traffic in mid-January however it may be with a gravel section in the construction area until Spring.
Repave the construction section and do a full asphalt overlay of Chestnut Way – If asphalt plants are open and temperatures allow for high-quality paving we will do this work immediately. If conditions do not enable a quality job, we will have a short closure (day or two) to complete this work at a later date.
Thanks for your ongoing patience and support!
*******************
November 30, 2018 Update
Pre-construction meeting held with KRMC, Stephen Watts, WGLA (engineer), Whitmire Grading (contractor), adjacent property owners, and Ed Tiles, Brookwood Village.
*******************
From the KPOA Board — November 26, 2018
Noting the catastrophic damage to Chestnut Way and after reviewing all the information (see below) provided by the Kenmure Road Maintenance Committee and our engineer (WGLA), it was moved and seconded to award the remediation contract to Jerry T. Whitmire Grading = $121,200 plus $12,000 for contingencies.  The motion passed unanimously.
********************
KPOA Board Review – November 16, 2018
Situation Summary:
Mini-landslide occurred during heavy Tropical Storm Michael rains October 10 taking a large section of earth and trees down the slope.
Natural gas line exposed. PSNC implemented temporary measures to protect the exposed section.
Culvert that runs 15 to 20 feet below road surface severely damaged/collapsed on outlet side and degraded on inlet side resulting in heavy erosion. Requires replacement and removal.
Several other utilities also run through the damaged area.
Remediation Summary (Chestnut Way Bid Specifications):
Utilities will need to be capped during remediation period. Water line has already had a valve added to enable isolation of this section without impacting service. Natural gas has redundant service as part of existing network and will be isolated with caps during construction. Electric does not run through damaged area. ATT/Morris = TBD.
Install silt fencing for erosion control and reinforce/stabilize existing culvert.
Clear and grub area as required for construction.
Excavate area to access existing culvert and location of new culvert. Stockpile soil.
Run-off will continue to be routed through existing culvert while concrete headwalls and new culvert (60 inch HDPE Plastic) is installed "off-line".
Re-direct stream to flow through new culvert
Remove and dispose of existing culvert (48 inch CMP, Corrugated Metal Pipe)
Backfill culverts and excavation site with soil and stone, grade and compact as required.
Reinstall/restore utilities that need to run through excavation site.
Install full depth asphalt on excavated section and install asphalt overlay on full length of Chestnut Way.
Notes:
Since asphalt plants will almost certainly be closed for the winter, our plan is to re-open Chestnut Way to traffic with gravel roadway in the excavated section and do asphalt work when plants open in the Spring.
Bid Summary and Recommendation:
Only two companies of the four contacted were available in the near future and submitted bids.
Jerry T. Whitmire Grading = $121,200 and Southern Appalachian Grading = $314,670 for "General Sitework" which should cover majority of the total cost barring big surprises.
Additional miscellaneous pricing for stone, soil and hauling materials also favors Whitmire by a high %. For budget purposes we recommend $12,000 be budgeted for these uncertainties.
Recommendation = Finalize and award contract to Whitmire.
High-Level Schedule:
Install valve to isolate water line – complete
Install caps to isolate gas main – 2 weeks = early December
Contractor to begin construction – 3 weeks = December 10 (weather dependent)
Construction Duration – 4 weeks = January 10 (weather dependent)
Re-open Chestnut Way to traffic with gravel section at excavation site (weather dependent) – mid January
Paving – Spring of 2019 – Possibility of sooner if plants are open and weather is good
************************
November 10, 2018 Update
To: All Kenmure residents, particularly residents of Chestnut Way, Red Maple Drive, Scenic Drive and Brookwood Village
It has been brought to our attention that some residents affected by the closure of Chestnut Way have had problems getting guests routed to their homes in a timely manner.  (Apparently, the detour signs have not been totally effective.)
In an attempt to lessen this problem, the Security Committee is offering the following solution until Chestnut can be repaired.  We have instructed our Security Officers to provide a note to guests of the affected area outlining an alternate route (Maple Hill) to access Red Maple Drive and Brookwood Village.  However, we will need your help to make this work effectively.  We are asking residents affected by the closure of Chestnut to please inform your guests and contractors of the situation and ask that they request the alternate route to their destination upon arrival at the gate.
We understand and sympathize with your frustration created by the recent unusual amount of rain in our community and closure of Chestnut Way.  We also appreciate your patience and hope that this proposal will provide a simple temporary solution as our Kenmure Road Maintenance Committee works toward repairs of Chestnut Way.
Gene Holland, Kenmure Security Committee, gah1542@aol.com
*****************
November 5, 2018
Work has continued to address the damage caused by the mini-landslide on Chestnut Way.
Key updates:
Design for the repairs was completed and submitted for bids a couple weeks ago. One company has submitted a bid and we are hoping to receive a second bid by early next week.
It will be early to mid-December before work can begin and preliminary estimates are 4 to 6 weeks after start date to get the work completed with the weather being an obvious factor. This means that we will not be able to complete work prior to asphalt plants closing for the winter. As such our plan will be to complete the repairs and re-open the road with a compacted stone section in the area of the repairs for the winter months and complete the paving and overlay work when asphalt plants re-open in the spring.
Assessment of utilities is underway with following updates:
Gas line – the section that runs through along Chestnut Way will need to shut-off and capped and then replaced. Fortunately, there is redundant service available for all residents to we expect minimal if any, service interruptions.
Water – we will add an additional shutoff valve that will allow us to isolate the section of the line that will need to be removed and replaced. As with gas, there is redundant service so interruptions will be minimal if any.
Electric – fortunately, power lines do not run through the damaged section so there should be no impact.
ATT and Morris BB – assessment underway.
Small detour signs have been posted to aid residents, visitors, and contractors.
Thanks for your ongoing patience as we work to get this road repaired and open for traffic.
Andy Clapper, Chair, Kenmure Road Maintenance Committee, 585-944-4224; andyc1157@gmail.com
****************
October 23, 2018
A quick update on the mini-landslide at Chestnut Way:
Jared Deridder, WGLA Engineer, and I met with the KPOA Board on Friday of last week and provided them an overview of two approaches to needed repairs. Both approaches involve installation of a new culvert and removal or closure of the existing damaged/deteriorated culvert. (See pictures below)  There will be some access required via the adjacent properties and we are developing plans to engage those owners accordingly.
Approach #1 = Excavate the roadway down to the level of the culvert which is approximately 20 feet below the level of the asphalt. Install a new culvert and remove or fill existing and then fill/grade the area and install new asphalt.
Approach #2 = create a pit adjacent to the landslide area and bore a hole underneath the road for the new culvert.
The Board approved us reaching out to contractors for both approaches so we can better understand potential schedules as well as cost. We are hoping to identify a contractor with capabilities, capacity, and cost that would enable to get the work done in November but it is too early to commit to such a schedule.
Watch Out = If we can't get the work done in November we run the risk of delaying repairs until Spring due to the closure of the asphalt plants when the weather turns cold. Hopefully, this will not be the case!
Jared has also been in touch with utility companies regarding water, gas and electrical services that run through the impacted area and we are confident that plans can be developed that make any service interruptions very short (hours) and hopefully avoid interruptions altogether.
I have ordered some detour signs and will get them posted upon arrival late this week to aid residents, visitors, and contractors that would normally have used Chestnut Way.
Thanks for your ongoing patience and for avoiding travel on Chestnut Way given the risks of a roadway collapse if we have further erosion.
Andy Clapper, Kenmure RMC Chair, andyc1157@gmail.com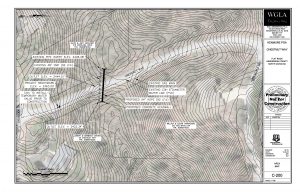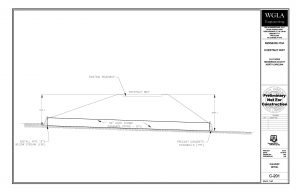 ******************
October 17, 2018
We appreciate that there has been much inconvenience associated with the closure of Chestnut Way due to the mini-landslide last week.  We are working to find and implement project plans to safely get this road re-opened.
We have had numerous people on-site at the Chestnut Way mini-landslide since the rains last week including our engineer from WGLA (multiple visits), a couple of contractors, Duke Energy technicians, several truckloads of workers from PSNC due to the gas line which has become exposed and other members of the Kenmure Road Committee. Based upon input from this cross-section of people, we made the decision that the prudent thing to do was to close the road vs. taking a risk with what could be life-threatening consequences if/when further erosion takes place.
The culvert that runs under the road where the landslide took place is caved in on the outlet side and separated at the inlet side creating risks of further erosion when we have rains. The risk is high that such erosion could cause a total collapse of the road. With the exposed gas line and the numerous other utilities that run through this area, we need to develop a plan that addresses a wide range of risks. This takes time.
Our engineering firm has developed two preliminary approaches to the repairs and we are working to assess timelines and costs for these options. One option would require a full excavation of the roadway which would include a need to cap or shut off several utilities that run through this area. The other approach would require that we dig a pit in order to bore a new culvert under the existing roadway.
Again, we understand and appreciate the inconvenience that this closure has created for residents and visitors that typically use Chestnut Way, but the safety of residents and visitors is our priority.  We are fortunate that the detour route is less than a 1-mile increase in driving distance.
We plan to provide at least weekly updates as we assess the options and finalize plans.
We have confidence in our engineering firm, WGLA.  If you have experience and expertise with this type of issue, we would welcome your insights and support. Please reach out to me via email or phone.
Thanks for your continued patience!
— Andy Clapper, Chair, Kenmure Road Committee, AndyC1157@gmail.com, 585-944-4224
****************
October 12, 2018
The damage the mini-landslide on Chestnut Way caused will require a significant reconstruction project. We were able to get our engineer and a contractor that we have used for road-related projects to visit the site over the past two days.
Unfortunately, the inspection of the roadway and culvert that runs under the road shows a level of damage that will require that we do major excavation and replace most if not all of the culvert that runs about 15 feet below the road level. The risk of the roadway suffering additional undermining is high, particularly if we get heavy rains. As such, for safety-related reasons, we will keep Chestnut Way closed to vehicle traffic until future notice.  (See Photos Below)
Over the coming week, we hope to develop a reconstruction plan and will communicate significant updates accordingly.
Thanks for your patience as we work through this process.
– The Kenmure Road Maintenance Committee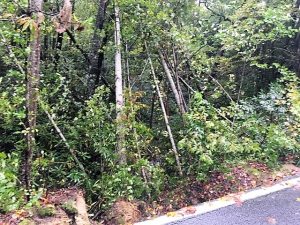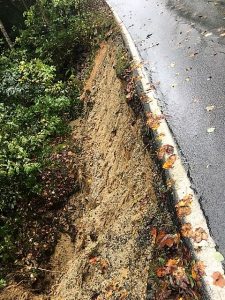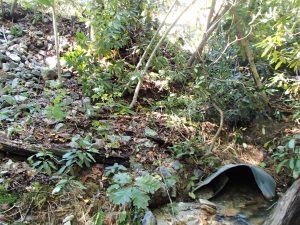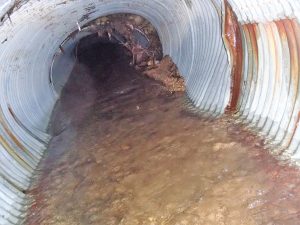 ****************
October 11, 2018
Chestnut Way is closed until further notice due to a mini-landslide on the shoulder which may be undermining the road.  Do not drive on Chestnut way.  Consult your Kenmure map or GPS and use alternate routes.  Thank you.
Your KPOA Board